Today, I am grateful that God is so unyieldingly willing to take as much of the reigns
as I can get my stubborn fists to loosen.
When I let go, He tills the dead leftover of what grew in the previous season using it for good, strengthening and expanding my capacity to hold and retain things of value. As new life springs forth in a new season every sprouting seedling reflects the promise of more freedom in Him, sweeter fruit, and greater peace.
In gratitude today, for signs of new life peeking up from the enriched soil of a cold season:
~ the women's night brewing out of the weekly hour at little gym
~ a quickly approaching vacation to be with my favorite woman ever
~ the women in my life who are saying

YES

with me
~ God's faithful enduring constant awesomeness
Even with my eyes cast downward I find the most amazing testimonies of God's provision in all of life!
He is stronger than my worst day.
And praise God, I cannot stop HIm!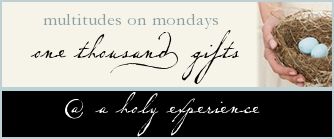 Join

Ann, at a holy experience

, where she guides, inspires,
and hosts a beautiful, flourishing
community of Gratitude Seekers

.